Amazonia RAW Protein Cacao & Coconut 500g
Description:
Cacao and Coconut Protein by Amazonia Raw is a highly nutritious and delicious mixture of 80% Organic Sprouted Bio-fermented Protein, 70% golden Pea and 30% Brown Rice to provide the body with raw, highly digestible protein containing a bunch of complex amino acid. It is completely dairy free and contains a combination of pre-biotic and digestive enzymes to breakdown and assimilate the proteins for easy absorption. Cacao and Coconut protein by Amazonia Raw is all healthy and natural with an amazing rich cacao and coconut flavor. Try it and you will fall in love with this delicious and healthy super food.
Benefits:
Amazonia-Raw Cacao and Coconut Protein is highly nutritious and delicious with a rich creamy texture. You will definitely enjoy the great smooth taste from the very first sip.

Amazonia-Raw Cacao and Coconut Protein helps to boost your energy level as soon as you take it.

It contains prebiotic protein which ease in its absorption.

It is best for maintaining a healthy body as it contains all essential nutrients to make you smart and alert.

It contains 80% raw digestible protein and live enzymes with high levels of BCAA.

It is also good for people who are allergic to nuts, dairy products, gluten or soy as it is free from all these ingredients.

All the ingredients used are purely organic and are easy to digest hence provides instant energy.

Cacao and Coconut Protein contains all natural ingredients without addition of artificial color, flavor or steroids.

It is made to enhance the gut health.
How To Use Amazonia-Raw Cacao And Coconut Protein:
Add 30g i.e. 3 table spoon of Amazonia-Raw Cacao and Coconut Protein into 200ml of water.

You can also add it to juices, smoothies or almond milk, soy milk, rice milk, hazelnut milk, quinoa milk, Oat milk.

For better results consume at least 25-35g of Amazonia-Raw Cacao and Coconut Protein daily.
Serving Size Recommendations:
24.8g Protein daily: Active 30g serve.

36.45g Protein daily: Endurance 45g serve.

48.7g Protein daily: Performance 60g serve.

It is recommended to drink lots of water while consuming this product.
Storage:
Always store Amazonia-Raw Cacao and Coconut Protein in cool dry place.

Always use a dry spoon.

Refrigerate after opening.

Consume within 90 days of opening.
Nutritional Values: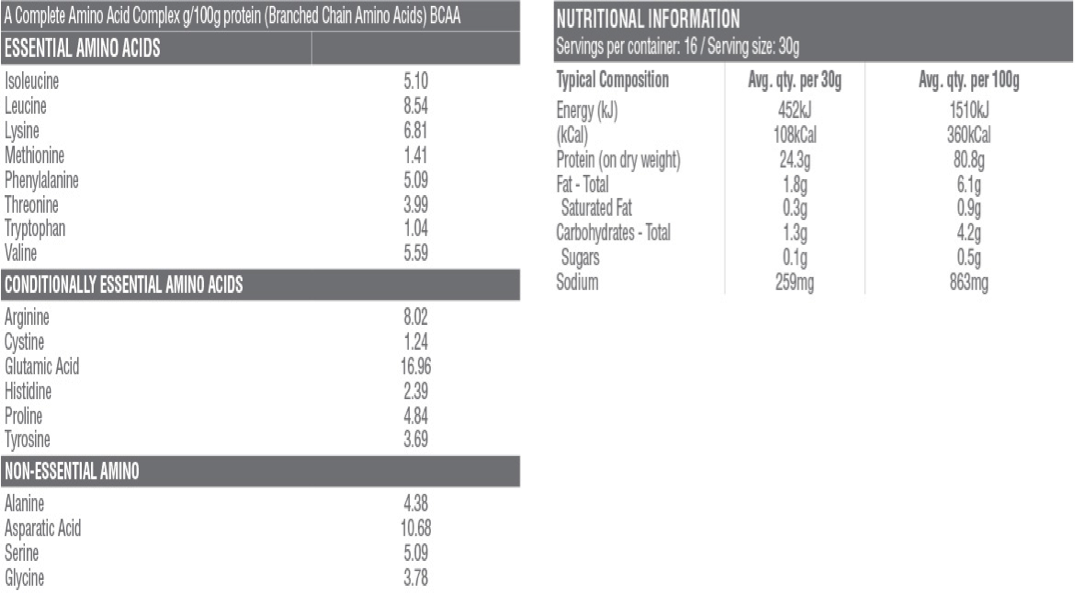 Key Attributes Of Amazonia-Raw Cacao And Coconut Protein:
Certified Organic.

Raw

Fair Trade.

Vegetarian.

Soy Free.

Gluten Free.

Nut Free

Dairy Free

No GMO.

No Artificial Flavors.

No Emulsifier.
Enjoy this fantastic Super Food full of nutrition in a variety of sizes i.e. 500g and 1kg. You can easily order it from BuyOrganicsOnline at reasonable price.