EPIC
CHEWING GUM CINNAMON 50
INGREDIENTS:
Xylitol.

Gum base.

Natural Flavors.

Soy Lecithin.

Gum Arabic.

Titanium Dioxide.

Carnauba Wax
DESCRIPTION:
Kick start your day with amazingly refreshing and exotic Cinnamon Chewing Gum By EPIC.
This chewing gum is delicious as well as contain balanced proportion of Xylitol with anti bacterial properties that will help prevents tooth decay.
Its excellent flavor and chewing consistency makes it one of the favorite chewing gum of all times. Cinnamon Chewing Gum by Epic is 100% free from sugar and aspartame which makes it suitable to use by the kids.
Dentist from all over the world also recommend the use of Cinnamon Chewing Gum by Epic. Try it and you will definitely fall in love with its great taste and the benefits you will get by its regular use.
BENEFITS:
Epic Cinnamon Chewing Gum is extremely refreshing and exotic.

It is free from sugar.

It is one of the best aspartame free chewing gum available in the markets.

It is made from 100% natural Xylitol.

Cinnamon Chewing Gum By Epic is gluten free therefore it can be used by people allergic to gluten and gluten containing foods.

It also helps to quench dry mouth.

It also aids in rebuilding teeth naturally.

It is safe for kids.

It is also recommended by most of dentist to avoid mouth odor.

It also helps in preventing from tooth decay.
NUTRITIONAL INFORMATION: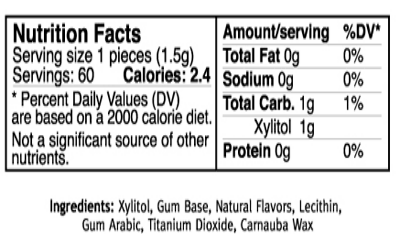 Storage:
Keep in a dry cool environment
KEY ATTRIBUTES OF CINNAMON CHEWING GUM BY EPIC:
Fair Trade.

Vegetarian.

Gluten Free.

Dairy Free.

No GMO.

No Artificial Color.

No Artificial Preservative.

No Emulsifier.
Try this extremely exotic and refreshing snack to keep you going. Order it now from BuyOrganicsOnline at reasonable price.