Save On Comforting Chamomile 16 Bags by Yogi Tea - Buy Online
Comforting Chamomile 16 Bags By Yogi Tea
INGREDIENTS
DESCRIPTION
Established in 1984, the Yogi Tea Company believes that the purpose of business is to serve. Their guiding principle is to "feel good, be good, do good". This principle shapes how they make their many high-quality tea products, blended specially for flavour and purpose with the environment in mind. From an initial three flavoured tea products, Yogi Tea now provides 60 blends to consumers, each possessing their own unique taste, flavour and purpose.
Yogi Tea Comforting Chamomile was created to help consumers relieve the type of stress and anxiety we develop after tackling every day activities. Chamomile has for centuries been renowned, not only for its soothing taste and character, but also for its numerous health boosting benefits. Not only does Yogi Comforting Chamomile Tea make a flavoursome soothing warm beverage at any time of the day or evening but enjoying its gentle flavours can also provide major benefits for your overall health.
This product comes in a package containing 16 chamomile tea bags.
HEALTH BENEFITS
Strengthens your immune system
Beneficial for women experiencing menstrual discomfort
Eases a sensitive stomach
Provides healthier, shinier hair

Is great for the treatment of acne and abrasions when applied directly to the skin
SUGGESTED USAGE
To consume simply add a comforting chamomile tea bag to a cup of boiled water, wait a few minutes and enjoy.
This product can also be used to treat and clean wounds. To do so make a cup of tea and allow to cool, then dip a cotton bud into the cup of tea and apply directly to the skin.
STORAGE
To maximise freshness, store in a cool dry place in an air tight container.
NUTRITIONAL INFORMATION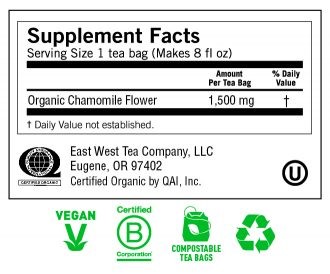 Don't delay purchase this and other wonderful organic products online from Buy Organics Online today!