Chai Black Tea Bags 16 Bags By Yogi Tea
INGREDIENTS
Organic Assam Black Tea Leaf

Organic Cardamom Pod

Organic Cinnamon Bark

Organic Ginger Root

Organic Stevia Leaf

Organic Clove Bud

Organic Black Pepper
DESCRIPTION
The Yogi Tea Company believes that the purpose of good, successful business is to provide a high-quality service. Established in 1984, their company motto is to "feel good, be good, do good". This principle has shaped the formulation of their many high-quality tea products, blended specifically for flavour and purpose with the environment in mind. Originally, focused on producing three high-standard flavoured tea products, Yogi Tea now provides 60 terrific blends for consumers, each possessing its own unique taste and flavour.
A traditional drink in India, Black Chai by Yogi Tea possesses a rich spiced blend that is guaranteed to energise. Created with full-bodied, rich Assam Black Tea from the Assam region of India, this tea incorporates cinnamon, cardamom and ginger to create a warming, cleansing sensation. The result is a delicious black tea that can be consumed with satisfaction at the start or the end of the day, which not only comforts the soul but delivers significant health benefits.
HEALTH BENEFITS
Increased energy without over-stimulating the heart due to limited caffeine

Improved digestion thanks to the presence of tannins that can overcome intestinal and gastric illnesses

An improved immune system that helps stave off influenza, viruses and the flu

The amino acid, l-theanine that black tea possesses can help relieve stress and provide greater concentration

A reduced risk of diabetes

Stronger and healthier bones because of the inclusion of phytochemicals in black tea

The presence of polyphenol and catechins can reduce the risk of developing certain types of cancer
SUGGESTED USAGE
Simply add Yogi black tea bag to boiled water and steep for 5-10 minutes. Then enjoy plain or add milk or a milk substitute together with your favourite sugar or sweetener product for added flavour.
STORAGE
Ensure you place this product in a cool dry place away from direct sunlight.
NUTRITIONAL INFORMATION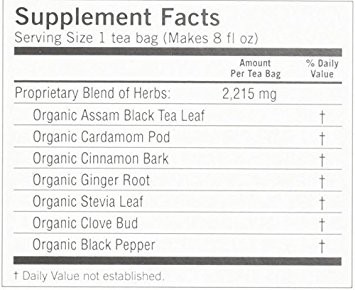 Don't delay, purchase this and other outstanding organic products online from Buy Organics Online and save!