Forbidden Green Rice 500gr
INGREDIENTS:
Parboiled Organic Brown Rice Infused with Bamboo Juice.
Description:
Add a little twist in your life by changing your rice choice from white to green.
Green Rice by Forbidden is 100% natural and organic, it is basically short grain brown rice soaked in delicious bamboo extract.
It is named after its beautiful fresh green color. Green Rice by Forbidden is parboiled therefore it is easy to cook, highly nutritious with delicate nutty flavor.
Forbidden Foods Proudly Claim that they are the only seller of this unique and delicious green rice in Australia.
This small grain Green Rice is beautifully infused in bamboo extract to give it delicate green tea nutty flavor.
Green Rice By Forbidden remain green in color even after cooking and because it is sticky in nature it is best to prepare delicious sushi however it can also be used for daily eating purpose.
HEALTH Benefits:
Green Rice by Forbidden is 100% Certified Organic.

It contains high contents of fiber which helps to prevent constipation and regulates proper stool formation.

Green Rice also contains high amount of protein required for proper growth and development of the body.

Green Rice is free from Gluten therefore it is suitable to consume by the people allergic to gluten or gluten containing foods.

It is all natural and pure and is free from genetic modification.

It is 100% wheat free.
NUTRITIONAL INFORMATION: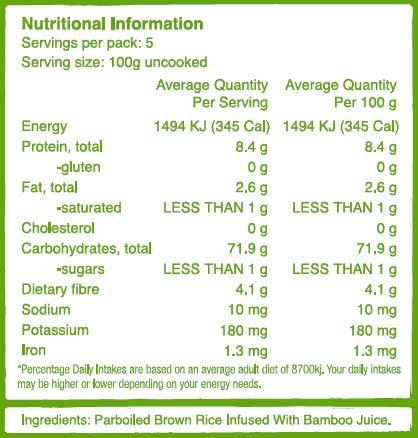 Storage:
Keep in cool and dry environment.
RECOMMENDATIONS:
Green Rice is partially cooked therefore it does not require soaking which is a plus plus as it will save your time.
HOW TO PREPARE GREEN RICE BY FORBIDDEN:
Add 2 cups of water to 1 cup (200g) of Forbidden Green Rice.

Add Salt according to taste.

Bring to boil over high heat.

Cover, reduce to simmer covered for 15 - 20 minutes.

Remove from heat and stand covered for 5 - 10 minutes and serve.
KEY ATTRIBUTES OF GREEN RICE BY FORBIDDEN:
Vegetarian.

Certified Organic.

Gluten Free.

Dairy Free.

No GMO.

No Artificial Color.

No Artificial Preservative.

No Emulsifier.
Try this extremely delicious and nutritional pantry item to keep fit and healthy. Order it now from BuyOrganicsOnline at reasonable price.
Ingredients:
Parboiled Organic Brown Rice Infused with Bamboo Juice.